World shares rose while U.S. Treasury yields fell on Friday as markets digested the BOJ's decision to tweak its ultra-loose monetary policy as well as data showing a continuing moderation in annual U.S. inflation.
The BOJ adjusted its yield curve control scheme, offering to buy 10-year Japanese government bonds beyond the previous 0.5% target rate while keeping unchanged its benchmark short-term rate at -0.1% and long-term bond yields at zero.
Oil prices settled higher, reaching the fifth straight week of gains as investors were optimistic that healthy demand and supply cuts will keep prices buoyant. Brent crude settled 75 cents higher to $84.99, while WTI crude gained 49 cents to $80.58.
Commodities
Saudi Arabia is expected to extend a voluntary oil output cut of 1 million bpd for another month to include September, analysts said.
In the U.S., energy firms in July cut the number of oil rigs for an eighth straight month by one to 529, Baker Hughes said in its weekly report.
'Oil prices are up 18% since mid-June as record high demand and Saudi supply cuts have brought back deficits, and as the market has abandoned its growth pessimism,' Goldman Sachs analysts said in a July 30 note.
The bank maintained its Brent forecast at $86 a barrel for December and expects prices to rise to $93 in the second quarter of 2024.
Forex
U.S. inflation slowed considerably in the 12 months to June, with the personal consumption expenditures price index rising by 3%, the smallest annual gain since March 2021, data from the Commerce Department showed.
The yen whipsawed in its most volatile trading session in months following the BOJ's move while the dollar fell against a basket of its major peers. The yen weakened 1.18% versus the greenback at 141.08 per dollar.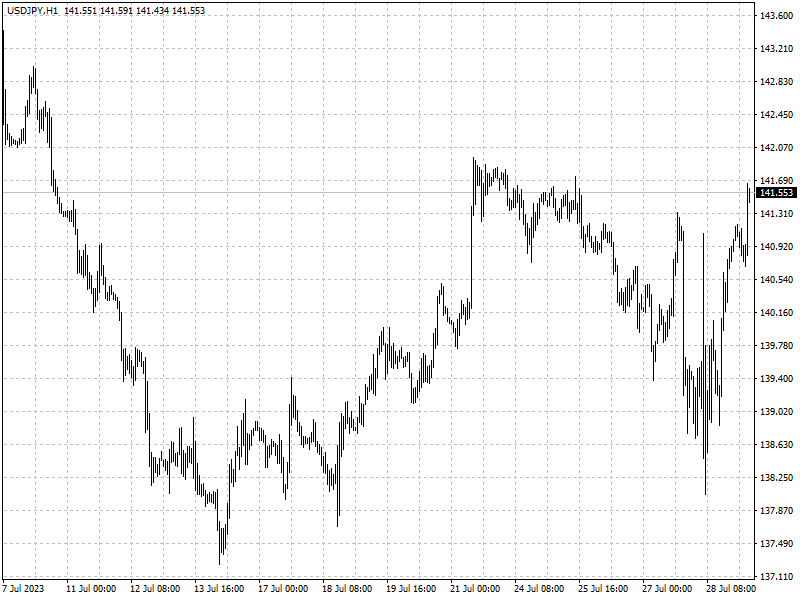 Disclaimer: Investment involves risk. The content of this article is not an investment advice and does not constitute any offer or solicitation to offer or recommendation of any investment product.