Global equity markets fell while the U.S. dollar gained on Thursday following news of stronger-than-expected U.S. economic growth despite consecutive interest rate hikes from the Fed and ECB.
U.S. GDP increased 2.4% in the second quarter, beating estimates from economists polled by Reuters and dampening concerns of a recession due to the Fed's aggressive rate-tightening cycle.
Gold prices slipped more than 1% to a two-week low on a stronger dollar and uptick in bond yields. Oil prices settled higher, supported by supply tightness following OPEC+ production cuts and renewed bullishness on the outlook for Chinese demand and global growth.
Commodities
A separate report from the Labor Department showing initial claims for state unemployment benefits fell 7,000 to a seasonally adjusted 221,000 for the week ended July 22. Economists had forecast 235,000 claims for the latest week.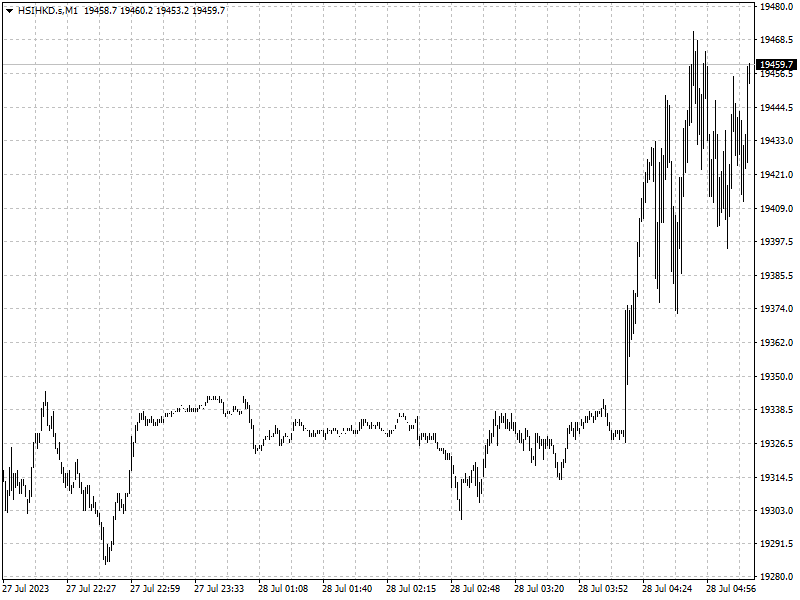 Brent crude topped $84 a barrel for the first time since April. Risk appetite in wider financial markets is being boosted by growing expectations that central banks such as the Fed are nearing the end of policy tightening campaigns.
'We see the oil market undersupplied,' UBS analysts said in a report. 'We retain a positive outlook and look for Brent to rise to $85–$90 over the coming months.'
Forex
The BOJ is that last in a trio of central banks to hold policy meetings in a week where both the Fed and the European Central Bank raised rates by a quarter of a percentage point, as expected.
Fed Chair Jerome Powell left open the possibility of another hike in September, and the ECB kept its options open on whether more increases will be needed to bring down inflation even as evidence of a slowdown in Europe is mounting.
'You've got this weakness in the data from the euro zone and more resilience from the U.S. That just questions why the market's being so long of the euro whilst it's questioning the ability of the dollar to hold its ground,' said Jane Foley, head of FX strategy, Rabobank London.
Disclaimer: Investment involves risk. The content of this article is not an investment advice and does not constitute any offer or solicitation to offer or recommendation of any investment product.