Wall Street ended lower on Thursday after PacWest's move to explore strategic options deepened fears about the health of U.S. lenders and hit shares of banks.
Gold made another run toward record highs on Thursday as U.S. banking concerns accelerated a flight to the safe-haven asset and sustained its stellar rally driven by bets for a pause in U.S. rate hikes. Oil prices held steady, but were set for a third straight week of losses.
With investors increasingly worried a widening banking crisis and an economic downturn, U.S. interest rate futures prices now imply traders mostly expect the U.S. Federal Reserve to cut rates by the central bank's July meeting, according to CME Group's FedWatch Tool.
Commodities
Spot gold added 0.6% to $2,050.66 an ounce. U.S. crude settled down 0.06% at $68.56 per barrel and Brent ended at $72.50, up 0.24% on the day.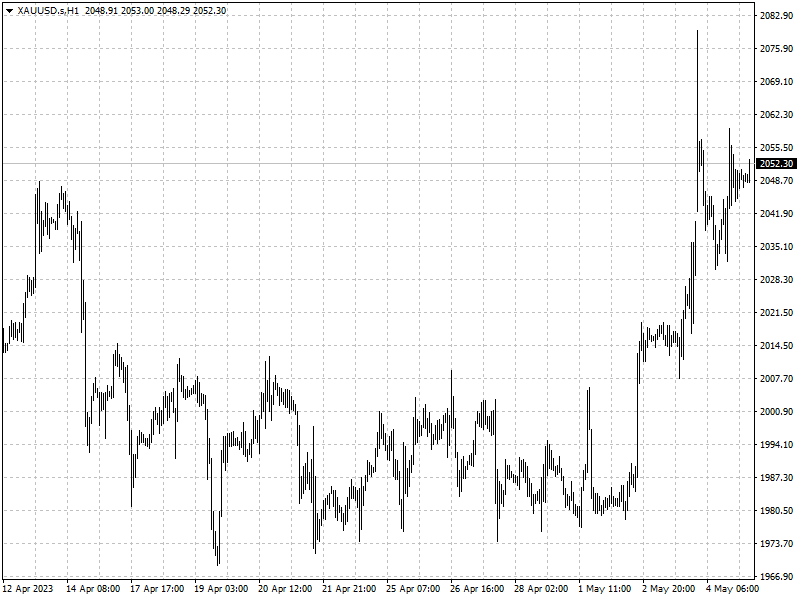 The melt-up in prices overnight associated with the banking stress revealed that traders are willing to deploy some of their dry powder, said Daniel Ghali, commodity strategist at TD Securities.
"The same flight to safety buying that pushed us over $2,000 is still in this market," said Bob Haberkorn, senior market strategist at RJO Futures.
Traders are now focused on the release of U.S. employment data for April later in the day, hoping it could help gauge the health of the economy.
Forex
The dollar gained some ground as the ECB raised rates on Thursday and signalled the need for more tightening a day after the U.S. Federal Reserve also raised rates.
In contrast to the ECB, the Fed had implied that its marathon hiking cycle may be ending. In Treasuries, benchmark 10-year yields and 2-year yields sank as investors worried about regional banks and signs of a weakening economy.
While the idea of a pause in U.S. rate hikes was welcome news for U.S. investors, it came with the implication that the economy is slowing, said Lauren Goodwin, economist and portfolio strategist at New York Life Investments in New York.
"It's highly unlikely we'll avoid a recession," Goodwin said. "We're on a clear path toward a recession in the next few months."