U.S. stocks ended lower and the dollar lost ground on Friday as negotiations to raise the U.S. debt ceiling were put on hold. Oil prices fell on renewed fuel demand.

European shares closed higher and the German DAX reached a record high prior to reports that the talks had stalled. Paris and London's stock markets hit record highs earlier this year.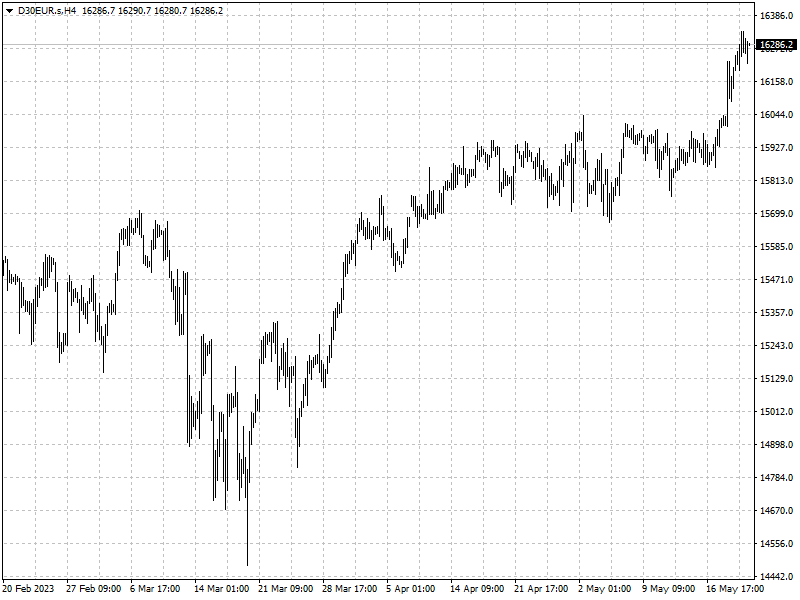 Gold prices advanced as traders slashed bets on another rate hike following Powell's remarks that uncertainties surrounding the lagging impact of past rate hikes and recent bank credit tightening made it unclear whether more monetary tightening will be necessary.
Commodities
Brent and U.S. crude prices notched their first weekly gains in a month, with the both benchmarks rising about 2%.
The Treasury Department has warned the government could be unable to pay all its bills by June 1 though a White House official said a deal remained possible.
U.S. oil rig count, an indicator of future production, fell by 11 to 575 last week, the biggest weekly drop since September 2021, energy services firm Baker Hughes said.
Money managers cut their net long U.S. crude futures and options positions in the week to May 16, the U.S. Commodity Futures Trading Commission (CFTC) said.
Forex
Treasury Secretary Janet Yellen told bank CEOs that more mergers may be necessary to staunch the banking liquidity crisis, according to CNN.
Powell reiterated that the central bank would now make decisions "meeting by meeting," but also flagged that after a year of aggressive rate increases, officials can afford to make "careful assessments" of the impact of rate hikes on the economic outlook.
Fed officials last week had more or less pushed against rate-pause bets for June given persistently high inflation.
'Powell was not overtly dovish, but he definitely was not hawkish,' said Erik Bregar, director, FX & precious metals risk management, at Silver Gold Bull in Toronto.