Disappointing result
The Turkish lira sank to a fresh record low Monday as incumbent Recep Tayyip Erdogan secured his victory in the 2023 presidential election, extending his rule into a third decade in power.
Erdogan won 52.1% of the vote in the second round according to Turkey's election board. The opposition was brimming with confident that soaring inflation could end his rule.
The currency trades above 20 against the dollar over concerns that the nation's longest-serving leader will hold his tight grip over monetary policy.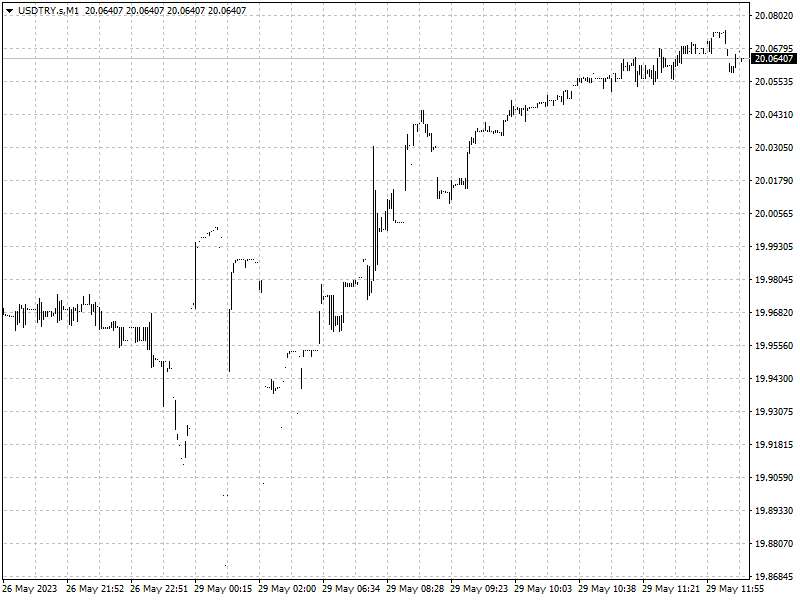 Erdogan has been dedicated to the pursuit of growth and export competition rather than taming inflation with an unconventional view that raising interest rates increases inflation.
Investors say they are particularly worried by a big slide in Turkey's foreign exchange reserves, which accelerated ahead of the first round of elections on May 14.
Hopeless lira
Erdogan's unorthodox approach to interest rates — he believes lower rates lead to lower inflation — has left markets beholden to an unpredictable mix of ad-hoc regulations and interventions, with new measures introduced informally and regularly.
Total foreign holdings of Turkish stocks and bonds decreasing by about 85%, or nearly $130 billion, since 2013.
'Some corrections have to be made to avoid running out of FX reserves at least,' said Viktor Szabo, an investment director at Abrdn in London. Policy announcements will be awaited, because 'the current heterodox policies are unsustainable.'
The central bank spent nearly $200 billion over the past year and a half to prop up the lira, net foreign-exchange reserves turning negative, and inflation jumping 44% in April.
In short, policymakers have run out of ammunition in its futile defense of the hopeless lira. Wells Fargo & Co expects the currency to hit 23 by the end of the quarter and then 25 as early as next year.
Morgan Stanley analysts also wrote in a Sunday note that the lira may reach 26 per dollar sooner than earlier expected and weaken close to 28 by the end of the year.
'Without a change in the macro policy framework to prioritize disinflation and to adopt market-friendly policies, Turkey's high external finance needs will likely keep macro risks alive, increasing sensitivity to global shocks (commodity prices, Fed) as well as the availability of FX inflows from regional partners.'
Robust dollar
Adding to lira's weakness, the dollar has regained momentum since its low on May 4 despite twists and turns before a tentative U.S. debt ceiling deal was reached.
Goldman Sachs' Michael Cahill said in a note last week that the strength could continue as the U.S. economy is holding up well.
'Credit conditions in the US have not tightened as much or as quickly as initially feared. And, growth in the rest of the world has sputtered a bit relative to robust expectations heading into the year.'
The dollar could gain through the rest of the year, especially as the euro shows more signs of weakening from a key resistance level of 1.10 relative to the dollar, he added.
'Our global forecasts imply there is likely more room for Dollar strength in the near term than what the market is pricing, and ultimately we think total Dollar depreciation for the year will be more constrained than commonly believed.'