Eurozone inflation cools
Sterling hit a 5-1/2 month high against the euro on Wednesday after data showing lower inflation in major European markets.
The euro is down around 1.5% against the pound in May, which would be the biggest monthly decline since October.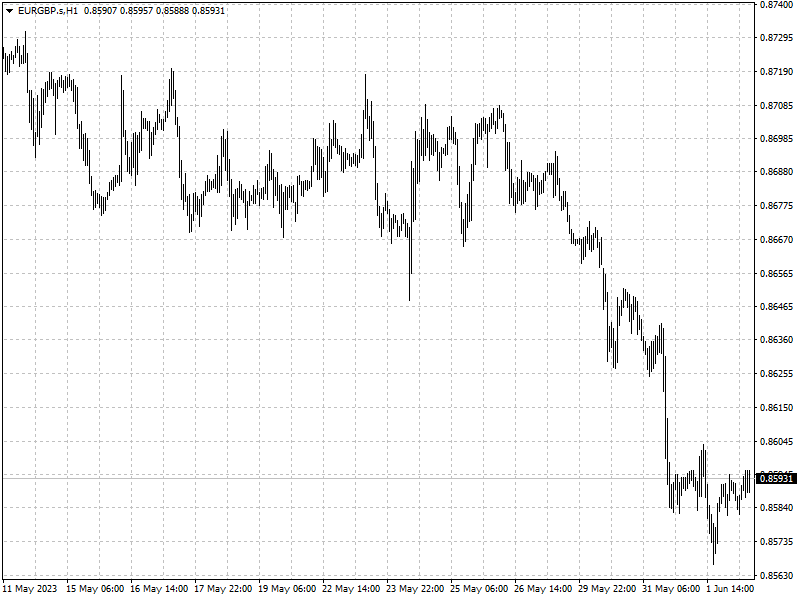 Eurozone inflation has fallen more than economists expected to hit its lowest level since Russia's invasion of Ukraine more than a year ago.
Annual consumer prices in the 20-country single currency bloc rose 6.1% in the year to May, a sharp decline from 7% in April.
Prices in the eurozone have cooled faster than the UK, where inflation hit 8.7 per cent in April, the joint highest alongside Italy's among the world's big advanced economies.
Eurozone energy prices fell 1.7 per cent from a year ago in May. ECB president Lagarde said it should limit firms' ability to further raise profit margins, which has been a key factor driving recent price pressures.
Investors are betting it will lift rates by another quarter-percentage point at its next meeting in two weeks' time and once more in July before pausing.
Core inflation fell to 5.3% and annual inflation fell in 18 out of the 20 eurozone member countries while the UK's reading rose to its record high at 6.8%.
'Sick man' of Europe
UK inflation in 2023 is becoming similar to the problem in the 1970s, when people talked about a "British disease" making the country the "sick man" of Europe.
While most leading economies have recovered, the UK still has about 400,000 more people not working than in December 2019.
A study by two think tanks suggests there are 330,000 fewer workers in the UK as a result of Brexit, with sectors such as transport, hospitality and retail have been particularly hard hit.
With older workers leaving the labour market altogether, and record levels of long-term sickness among the UK working age population, the lack of available staff to fill near-record job vacancies could force employers to increase wages.
Food inflation rose at the second-highest rate on record in May, partly fuelled by extreme weather affecting Spain and Morocco, the main suppliers of vegetables.
Brexit trade barriers had contributed 8 percentage points of the 25 per cent rise in food prices between 2019 and March 2023, LSE's new research showed.
The Prime Minister Sunak is considering asking retailers to cap the price of essential food items in desperate though Andrew Opie, director of food and sustainability at the British Retail Consortium said controls would not take effect.
Adding to the price pressures, the UK is more exposed to rises in the prices of wholesale gas.
Jonathan Haskel, a member of the BoE's MPC said cited the UK being a bigger user of gas to heat homes and keep lights on than other European countries.
Taxes being lower on electricity and gas paid by UK consumers compared to their European neighbours meant when wholesale gas prices rise, UK energy bills "would be expected" to go up more than others, he added.
Euro on the back foot
Markets were looking at expectations for the BoE's main interest rate for indications about where the pound trades from here.
BoE Governor Andrew Bailey and other top officials at the central bank have said they will respond if there are signs of persistently strong inflation pressure.
The BoE has raised rates to 4.5% and they are expected to reach 5.5% later this year after last week's stronger-than-expected inflation data.
Allan Monks, UK economist at JPMorgan, said this was alarming and would prompt the BoE to raise interest rates further.
'(The data) cannot be described as a one-off or simply as an indirect byproduct of food and energy price gains, as the BoE and the doves have tended to suggest up until very recently.'
Both IMF economists and bank experts upgraded their UK growth forecast to 0.4% and 0,.25% for 2023 respectively despite persistently high inflation, leaving room for policymakers to act more aggressively.
Any meaningful euro appreciation against the pound could be short-lived though the single currency drew some support from hawkish comments by ECB President Christine Lagarde on Thursday.