Desperate attempt
Saudi Arabia and Russia, the two most powerful members of OPEC+ announced new production policy changes on Monday.
Saudi Arabia said it would extend its oil-export cut of 1 million bpd for another month while Russia said it would make a voluntary supply cut of an additional 500,000 bpd next month.
Oil settled 1% higher on Monday as the pledge contributed to supply concerns. However, that failed to impress traders as much as it did earlier this year.
Prices notched their biggest gain in almost a year after OPEC+ it was slashing output by 1.15 million bpd on 2 April. Both Brent and WTI futures rose more than 6%.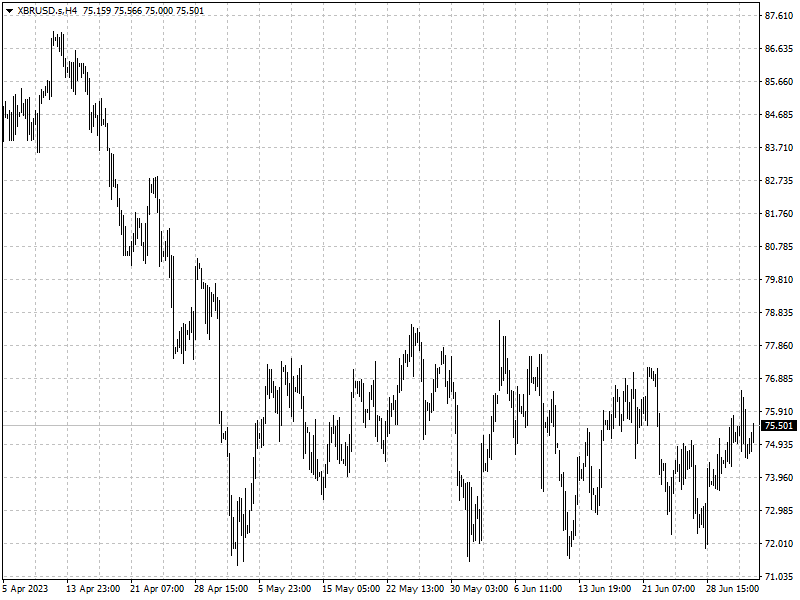 Oil is trading close to 75%, nearly halved from the high of above $130 it saw last March despite a series of announced cuts since October.
Both countries have come under growing pressures to boost energy prices. Saudi Arabia is looking to fund Crown Prince Mohammed's ambitious social and economic reform programme.
Russia, on its part, must finance its war in Ukraine which shows no sign of an imminent end yet, having lost a large part of its gas export revenues to Europe.
Russia in doubt
While Saudi Arabia has a strong record of sticking to pledged output targets, many traders and analysts believe Russia is less likely to, particularly given it already faces numerous challenges in keeping its oil exports flowing.
Russia oil producers have increased exports since the second quarter of this year after improving logistics in moving output to Asia.
Russian oil imports to India rose to a record high of 1.5 million bpd in June, according to Bloomberg.
'Russian oil exports are quite high, but if the global price remains at the current level, then there may be no option for the government of reaching this year's targets for oil and gas budget revenues,' said Dmitry Kasatkin, a partner at Moscow-based Kasatkin Consultancy.
Mikhail Krutikhin, a partner in Moscow-based consultancy RusEnergy, said Russia's new pledge may be just a verbal declaration of support for OPEC's de facto leader, Saudi Arabia.
Saudi Arabia's Energy Minister Prince Abdulaziz bin Salman, who warned against oil bears twice within a month, has not deterred short buildup.
'If Saudi Arabia cuts and Russia doesn't then they will have to accept giving up more market share in Asia,' said Adi Imsirovic, who once ran oil trading for Russia's Gazprom.