Shaky confidence
The dollar rose to a seven-month high against the yen this week. Kazuo Ueda suggested it is possible to start normalizing monetary policy if the BOJ becomes confident inflation will pick up next year.
While the consumer price index has been rising more than 3%, he defended ultra-loose stance because 'we think underlying inflation is still a bit lower than 2%.'
The remarks prompted some economists who saw adjustment taking place by July to consider lowering their conviction.
'Ueda seems to be distancing himself from current inflation figures and showing he is forward looking," said Yasunari Ueno, chief market economist at Mizuho Securities. 'The likelihood of him having enough confidence by the July meeting is less than 50%.'
Asked about the outlook for consumer prices, Ueda reiterated the BOJ's most recent forecasts. He observed that consumers' views are changing, but not yet enough.
'We are seeing that inflation expectations are rising, but as I said not to the extent that we are full in the 2% inflation expectations equilibrium,' he said.
Weakness benefits
Last year, Japan's Finance Ministry intervened to prop up the yen for the first time since 1998.
Some investors suspect a similar act could be imminent as the yen trades around 150 against the dollar.
Japan is not ruling out any options in responding appropriately to excessive currency moves, its top currency diplomat said on Monday, stepping up warnings against recent yen weakening that was 'rapid and one-sided'.
'They are only going to step in if the yen is about to break through 150,' said Hideo Kumano, executive economist at Dai-Ichi Life Research Institute. 'Although they did it last year, currency intervention is still the last option.'
The yen weakness has not appeared to be get in the way of Japan's recovery. Its GDP grew 2.7% in the first quarter. Economists surveyed by Reuters had expected to see growth of 1.9%.
Japanese shares have been flourishing as well partly due to long-awaited rising prices, with the Nikkei hitting a fresh 33-year high earlier this month.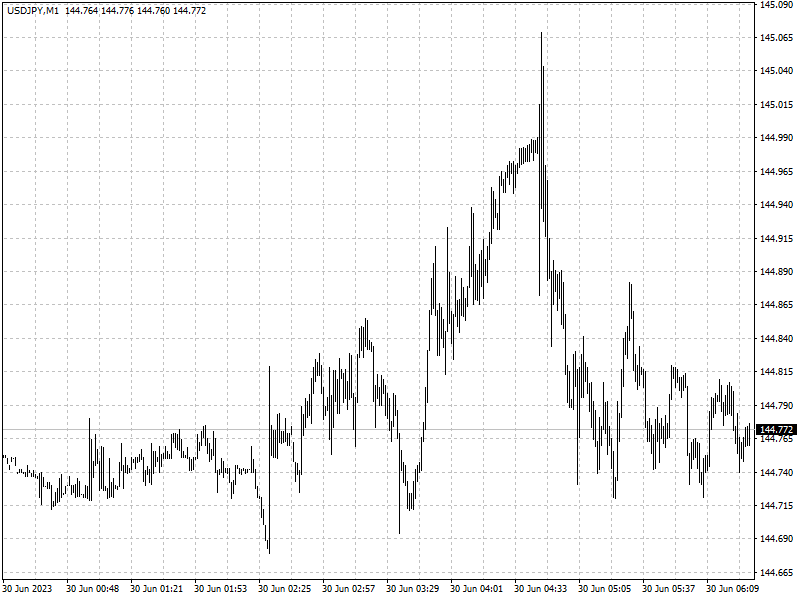 'Businesses and consumers are more tolerant of the weak yen now than they were last year...the recent rally in Japanese stocks may also be helping their mood. Still, things will get political if the dollar-yen rate drops back into the upper 140-yen range,' Bloomberg economist Taro Kimura said.
Potential rally
The BOJ is likely to raise its quarterly price forecast in June if inflation continues to beat estimates. Such a revision would be seen as a signal of policy tweaks in favour of the yen.
Ueda opened the door to 'a certain of element of surprise'. 'In between one policy meeting and another, various new data come in. Based on that information, the latest policy meeting may have a different result to the one before,' he said after the BOJ's June decision. "
Even without policy tightening by the BOJ, analysts see the yen regaining some strength as the finale of the global tightening cycle plays out.
Expected rate increases by major central banks over the next 12 months are well below levels seen during intervention last year.
'Pressure on the yen won't escalate much from here. The Fed is approaching its terminal rate with probably one more hike, at most two," said Atsushi Takeda, chief economist at Itochu Research Institute. "The yen doesn't have the same falling momentum like last year.'
An extended period of modest currency weakness could counterintuitively lay the ground for long-run yen strength should it help the BOJ boost growth, attain its inflation goal and finally embark on a pivot from the past decade of super-easy monetary policy.