Weak dollar
The speed of the dollar's recent decline took some by surprise. Signs of cooling labour market and prices growth has bolstered expectations that the Fed is close to win the war against inflation without sparking a recession.
Morgan Stanley, JPMorgan Chase, Goldman Sachs and HSBC are among the lenders to have either scrapped bullish dollar calls or forecast further declines for the greenback in the wake of last week's unexpectedly large drop in CPI.
The dollar is trading around a 15-month low. HSBC said in a note that the currency was likely to break out of the tight range in which it had traded since late 2022 while Goldman Sachs predicted the loss would be extended in the near term.
Morgan Stanley's currency strategists shifted to a neutral position on the greenback from overweight earlier this week. Last week JPMorgan closed its recommended dollar trades after economic data that they said provided "a gut check" to bullish dollar thinking.
The U.S. economy remains resilient. Just a fifth of investors now expect a 'hard landing' where economic output shrinks, compared with 68 per cent who expect continued growth, according to BoA's latest fund managers' survey.
Slowing inflation and moderate growth is seen as the worst scenario for the dollar in absence of global financial turmoil, according to Alan Ruskin, chief international strategist at Deutsche Bank.
Weaker lira
The lira hit a record low of 26.9 despite the dollar's depreciation on Wednesday. It has weakened 30% so far this year.
According to a Reuters poll, Turkey's central bank is expected to raise its policy rate by 500 basis points to 20% on July 20, making good on its pledge of further tightening to curb inflation, which hit 4.84% month on month in June.
In June, the policymakers raised its policy rate by 650 basis points 15%, promising to continue tightening until there was a significant improvement in the inflation outlook. But the lira did not respond positively to the sign of a reversal after years of unorthodox easing.
President Recep Tayyip Erdogan appointed a former Wall Street banker Hafize Gaye Erkan as the new central bank governor in June. She was a former managing director at Goldman Sachs and co-CEO at First Republic Bank.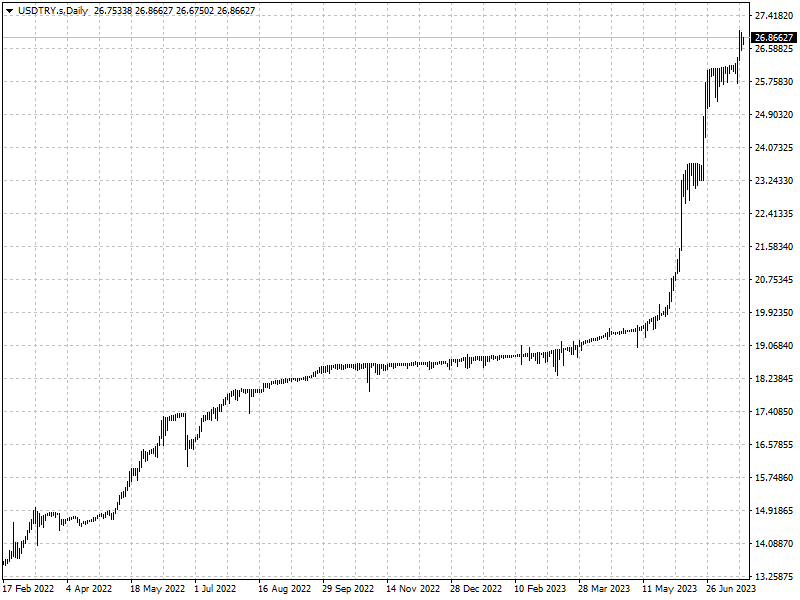 Turkey's first female central bank chief was widely welcomed by the markets in anticipation of policy normalisation that Erdogan had staunchly resisted in order to spur growth and export.
Concerns that Erdogan's influence over the central bank limits how far they can go in tightening policy was underlined by June's smaller-than-expected rate hike.
Goldman Sachs warned that efforts focusing on these measures that stabilize and increase the resilience of Turkey's financial system would be limited without a rates-based monetary policy stance.
Real rates are deeply negative in the country though its economy growing by 4% in Q1 has shrugged off the impact of the earthquakes in February. The central bank will announce the latest key rate decision on Thursday.