'Stubborn' BOJ
Sources have told Reuters on Friday that the BOJ is leaning toward keeping its yield control policy steady this week, though there is no consensus within the bank.
While the board is likely to revise up its core consumer inflation forecast for the year that began in April, those for fiscal 2024 and 2025 will likely remain largely unchanged from current projections, they said.
The yen plunged on Monday morning against the dollar to trade around 141.7. The rally from its weakest since November is called into question again.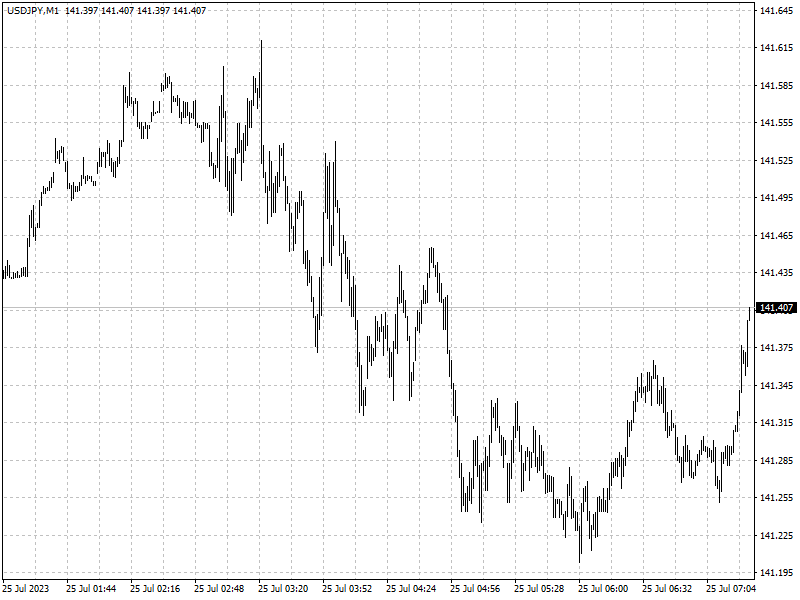 Adding to depreciation pressure, a government spokesman said Japan's inflation will likely slow to around 1.5% next year after stripping out one-off factors.
In a mid-year review of its forecasts, the government said last week it expects overall consumer inflation to hit 2.6% for the fiscal year that began in April and 1.9% in 2024.
But his remark contradicts that from top currency diplomat Masato Kanda saying 'it's become a shared view at home and abroad that changes are seen in Japan's corporate price- and wage-setting behaviour.'
Peak inflation?
Headline inflation in Japan rose to 3.3 per cent in June, outpacing the U.S. figure of 3 per cent for the first time in eight years.
Japan remains the world's only central bank with negative interest rates, and any reversal of this strategy would have massive implications for global financial markets.
But an index stripping away both fresh food and fuel costs, which is closely watched by the BOJ as a better gauge of trend inflation, rose 4.2% in June from a year earlier, slower than a 4.3% gain in May.
It was the first slowdown since January 2022 in a sign the rapid pace of increase seen in the past few months, driven by a flurry of price hikes by companies, was moderating.
'Cost-push inflation is finally beginning to peak out. We'll likely see inflation slow in coming months, which would allow the BOJ to keep policy steady for the time being,' said Toru Suehiro, chief economist at Daiwa Securities.
'While services prices may rise next year, those for goods will stay weak. Inflation could hover around 1% next year.'
While the policy divergence is expected to narrow in favour of the yen under pressure from rate differentials, the BOJ seems to grow more sceptical of price growth momentum on signs of lower-than-expected inflation in the U.S. and the U.K.
Positions reversed
Asset managers boosted bearish dollar bets to a record amid speculation slowing U.S. inflation will hasten the end of the Fed's aggressive tightening.
Institutional investors — including pension funds, insurers and mutual funds — increased net short position on the greenback by 18% to 568,721 contracts in the week through July 18, according to Bloomberg.
'We have been gaining this confidence that inflation will come down quite significantly over the coming quarters in the U.S.,' Rodrigo Catril, a senior foreign-exchange strategist at NAB.
Meanwhile, asset managers trimmed bearish positions on the yen by the most in more than three years. One-week risk reversals also suggest that traders are hedging for a stronger yen.
While a BOJ policy tweak this week appears to be unlikely after Friday's report, a growing number of economists continue to see change as possible later this year on broadening inflation.
'Traders are hedging against the risk of a stronger yen,' said Takeshi Ishida, a currency strategist at Resona Bank Ltd. 'While it's more likely that the BOJ won't change policy, the magnitude of yen moves in the event of a policy adjustment would be big.'