LNG demand grows
U.S. natural gas futures climbed to their highest level in more than three months on Monday, with demand for LNG exports rising and soaring temperatures expected to boost cooling demand, especially in Texas.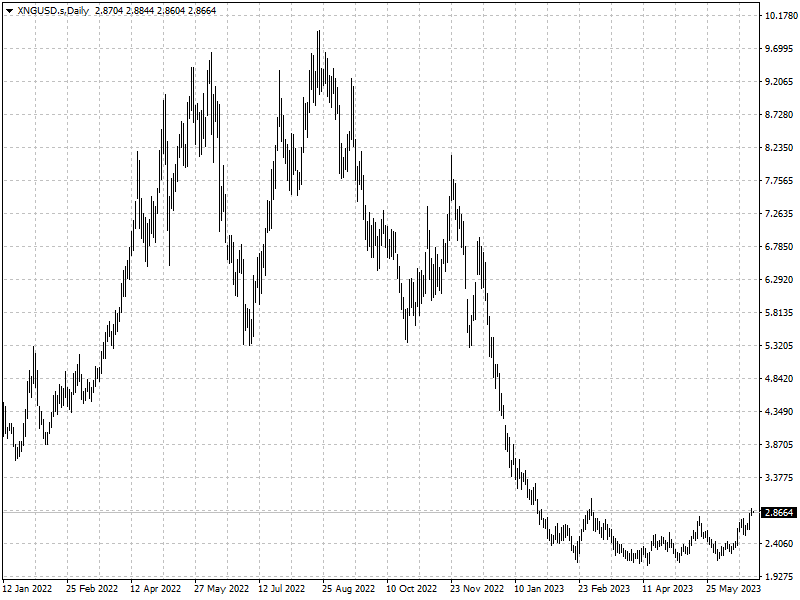 Demand for exports of LNG will rise from 11 billion bcfd last week to 11.5 bcfd this week and 12.6 next week, according to Refinitiv.
U.S power plants were seen consuming 41.1 bcfd of gas this week, up from 38.5 bcfd last week, and growing to 44.5 bcfd next week.
The higher LNG exports and power plant demand was expected to drive up total U.S. demand for natural gas from 94.7 bcfd last week to 97.9 bcfd this week, before rising to 102 bcfd next week.
A Texas' power grid operator predicted electricity consumption would break record this week as homes and business cranked up air conditioning amid soaring temperatures. In 2022, about 49% of the state's power came from gas-fired plants
Meteorologists forecast the weather in the Lower 48 states would turn mostly hotter than normal from June 24-July 8.
U.S. natural gas prices have slid from more than $6 per million British thermal units a year ago to less than $3.
Gas production stalls
On Friday, data showed that the number of drilling rigs deployed across the U.S. had fallen for the eighth week in a row, leaving the count down by more than 100 in the past six months, according to Baker Hughes.
A survey by the Fed of Dallas posted a score of zero for business activity growth in the second quarter among some 150 oil and gas groups in its region, the lowest score since 2020.
'Weak oil and gas prices' and 'high costs' had "brought growth in oil and gas activity to a standstill in the second quarter", said Michael Plante, senior research economist and adviser at the Dallas Fed.
Analysts expect further cuts this year with oil and gas prices off from last year's strong levels after the U.S. gas industry fails to respond to booming demand.
U.S. natural gas prices could be supported this year by fewer drilling rigs in shale-gas basins at a time when LNG demand is expected to peak, said Lloyd Helms, EOG's chief operating officer.
The steep rise in benchmark U.S. gas prices marks a sharp turnaround from earlier this month when summer gas prices dipped to an almost four-week low.
Hedge funds and other money managers purchased the equivalent of 281 bcf of gas over the seven days ending on June 20. The total position rose to 275 bcf net long, the highest for 12 months since June 2022.