German PPI plunged

German producer prices decreased more than expected on the year in July, their first fall in over two-and-a-half years.
The 6% drop in prices was driven largely by falling wholesale energy prices. Economist polled by Reuters had predicted a fall of 5.1%.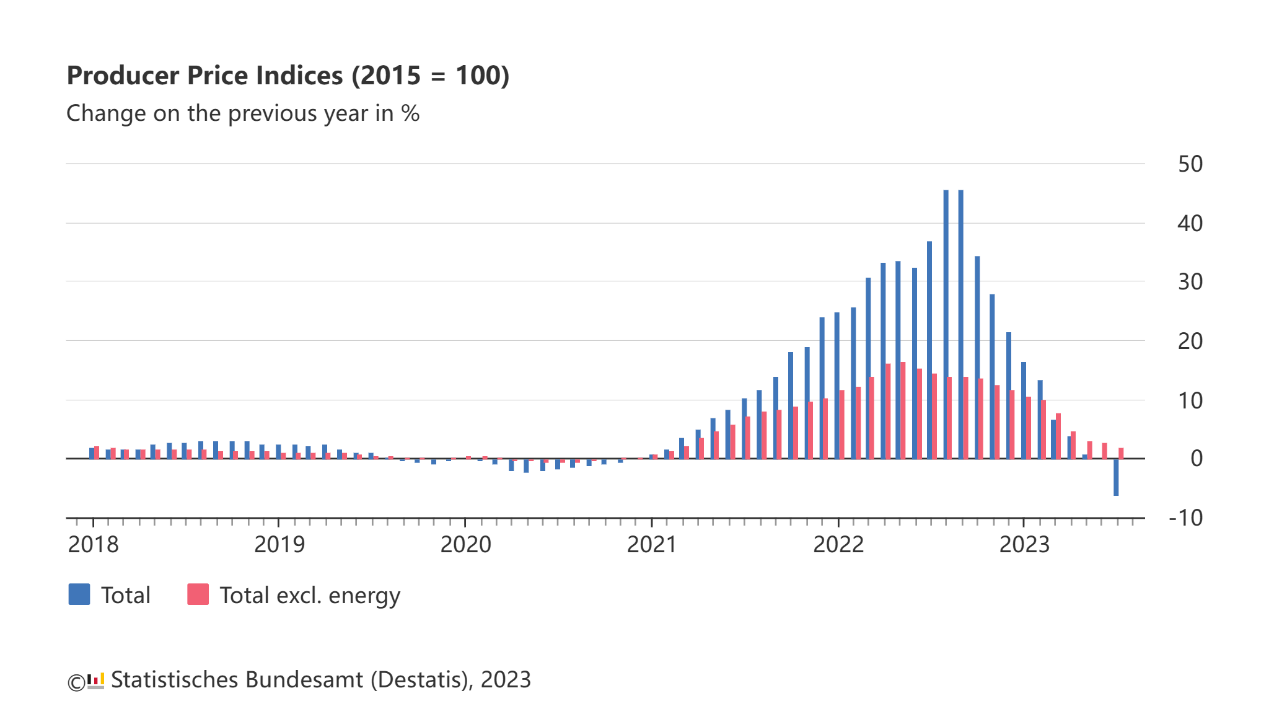 While energy producer prices dropped 19.3%, food producer prices rose 9.2%. The ECB is keeping a close eye on data to judge what impact it would have on inflation.
The deep contraction could bolster the case for ECB to pause or at least skip at the September meeting, said Oliver Rakau, an economist at consultancy Oxford Economics.
That Germany entered a technical recession has already complicated the ECB's policy path. Europe's largest economy contracted by 0.1% in the first quarter of 2023 and by 0.4% in the last quarter of 2022.
Big firms in the bloc are recording stagnating activity levels and see no improvement in the current quarter with risks tilted towards even more negative outcomes, the ECB said based on a survey of large firms in July.
Goldman Sachs said in a note to clients on Monday that it expected annual core eurozone inflation to remain above 5% until September and to only fall to 4% by the end of the year.
Core UK inflation softened
Core inflation in the UK has finally begun to fall in the past two months, according to the Office for National Statistics.
The underlying annual rate is found to have dropped to 6.8% in July, down from 7% the previous quarter, it said in an article on Monday.
The estimate represents a more sophisticated statistical analysis based on a new ONS methodology. That tries to works out the 'common trend component' that shows the rate of price rises across all goods and services.
The official figure showed that core inflation — which excludes volatile energy, food, alcohol and tobacco prices — stayed 6.9%, above a consensus forecast of 6.8%.
Average UK earnings excluding bonuses rose by 7.8% in July from the year before, the highest level recorded.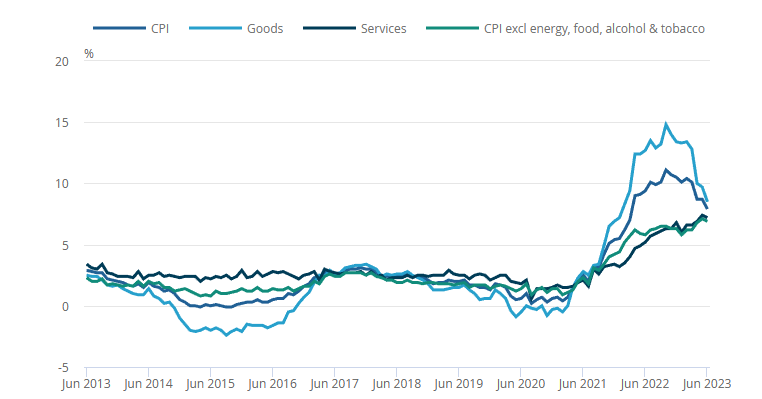 Traders are now fully pricing in a rate hike of 25bps at the next policy meeting. However the conflicting data are giving BOE headache as the country's labour market is cooling.
The UK unemployment rate increased by 0.2 percentage points to 4.2% in June, while the ratio of unfilled job vacancies to unemployed workers now stands at 0.73, down from a peak of almost 1.1.
Samuel Tombs, a UK analyst at Pantheon Macroeconomics, said it usually takes time for changes in the labour market to feed through to wage growth, and that earnings growth may well have topped out.