Oil inches towards $100 as momentum persists
2023-09-19

Summary:
Oil prices climbed for the fourth straight session on Tuesday due to low shale output, heightening OPEC and IEA's supply deficit fears.
Oil prices rose in early trade on Tuesday for the fourth consecutive session, as weak shale output intensified concerns about a potential supply deficit that is predicted by OPEC and IEA.
US oil output is expected to fall to 9.393 million bpd in October from 9.433 million bpd in September, EIA data showed. The decline of around 40,000 bpd would be the sharpest monthly decline since December.
The county's oil and gas production is on track to reach record highs in 2023 and 2024 partly due to rising oil prices though its rig count was still down about 16% year to date.
Saudi Arabia's Energy Minister on Monday defended OPEC+ cuts to oil market supply, saying the move was not about 'jacking up prices' but a data-based decision. He also warned that a surge in oil demand was not certain.
Speculators have boosted net-bullish wagers on Brent and WTI to a combined 15-month high. Citi said oil prices may head towards $100 before pulling back by year-end because non-OPEC+ members are raising their output.
Citi's analysts see oil averaging $84 in the fourth quarter 2023 and low-$70 range in 2024. Meanwhile RBC Capital Markets becomes another bank to entertain the possibility of three-digit oil prices.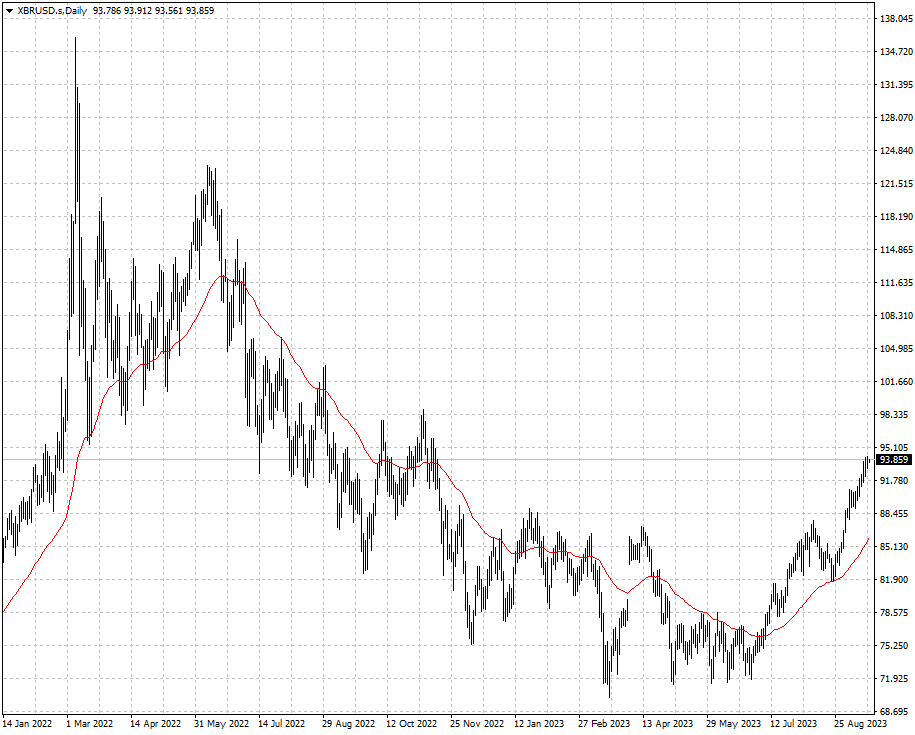 Brent's bullish run will remain in play as long as it holds above the EMA 50 which has put a floor under price since early July.
Disclaimer: This material is for general information purposes only and is not intended as (and should not be considered to be) financial, investment or other advice on which reliance should be placed. No opinion given in the material constitutes a recommendation by EBC or the author that any particular investment, security, transaction or investment strategy is suitable for any specific person.