Recently, Apple resumed MT4/5 downloads in the app store, which surprised and delighted investors. Subsequently, the number of software downloads also surged.
It has been proven that as the world's most popular trading software, MT4/5 is one of the best in the industry in terms of audience breadth and plugin tool richness.
However, during the absence of MT4/5 from the Apple Store, many friends around me have noticed that there has been a influx of fake software on the market - although it looks similar to the genuine version, there are frequent sliding points and short lines during operation, let alone normal cash inflows and outflows. The most outrageous thing is that some software even asks for usage fees, which is truly shocking to the jaw.
Fortunately, it is not difficult to recognize the genuine MT4/5. Today, I will teach you a few tips.
Midak's software is definitely free of charge
Mydak's MT4/5 must be freeware, which is provided free of charge by the account opening platform.
If the platform charges you and does not open it to the public, it means that the MT4 provided by it is closed for use, because knowledgeable users will find the tricks in it upon comparison. The more people use it, the easier it is to expose the truth, and only a threshold can be set for use.
So, there is a 99.9% chance that this platform will be a capital market. When encountering this situation, just one word: Run!
MT4/5 requires online installation and generally has a relatively small capacity
Pirated MT4 software, as it is installed in a closed environment, does not require additional data packages. It is generally relatively large, ranging from tens to even tens of megabytes. The legitimate MT4 software must be executed on the server, and after downloading, it is a verification program that is usually relatively small, usually only a few megabytes.
Taking the EBC platform I am currently using as an example, when I found the download page for MT4, the downloaded files were only about 3M. From the perspective of capacity, this is the normal size of a legitimate software.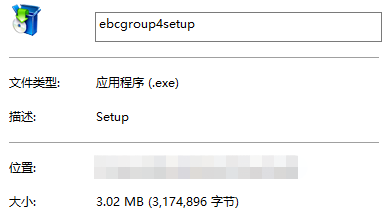 Check if the name of the installation interface is MetaTrader4/5
This is a small detail. But I have met many people before who know what MT4/5 is, but when I mention MetaTrader4/5, I feel lost.
However, a legitimate MT4 installation interface name will always display the full name of MetaTrader4/5. On the contrary, pirated software is likely to overlook this detail and display MT4/5 directly.
In addition, MT4/5, as a third-party software, will display information about cooperation platforms when used, which is the same as domestic stock software. Both are trading software licensed by securities firms, such as Industrial Securities Tonghuashun, Oriental Securities Tonghuashun, etc. They are all Tonghuashun software, but belong to different securities firms.
Take EBC as an example. We will see that the full name of the software is EBC Group MetaTrader4, and its brand logo is attached; At the bottom left, there is also the complete company name of EBCGroup Limited, this is all the information that a legitimate software should label. If there is any inconsistency, it may be pirated software.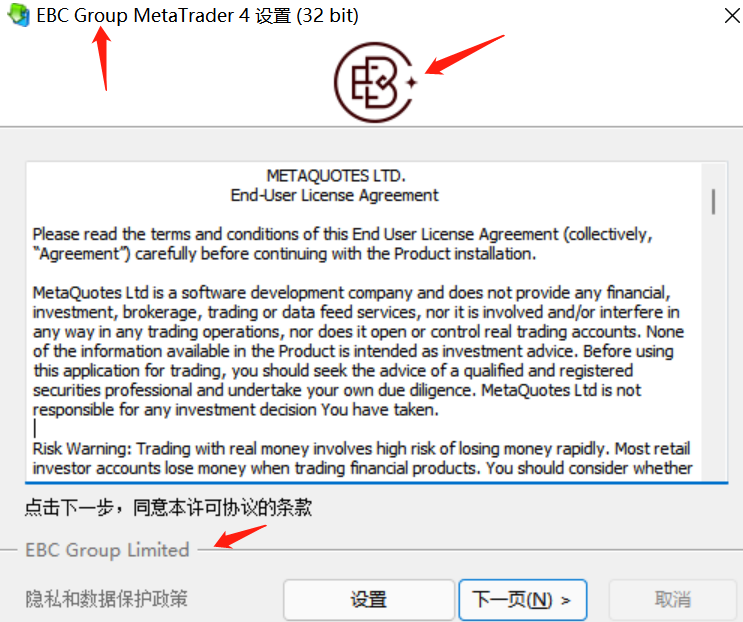 In addition, because the software on Midac is installed online, the terms information will be updated continuously. For example, if we drag down the installation terms of the EBC MT4 software, we will see that the terms have been updated to 2023.

Due to the closed nature of pirated software, it may not be updated for several years, so these details are naturally filtered out.
Look at the language options of the software
Open the software, and the genuine MT4 software is aimed at global investors, usually with a wide range of available languages. For example, EBC's MT4 software has a total of 39 available languages.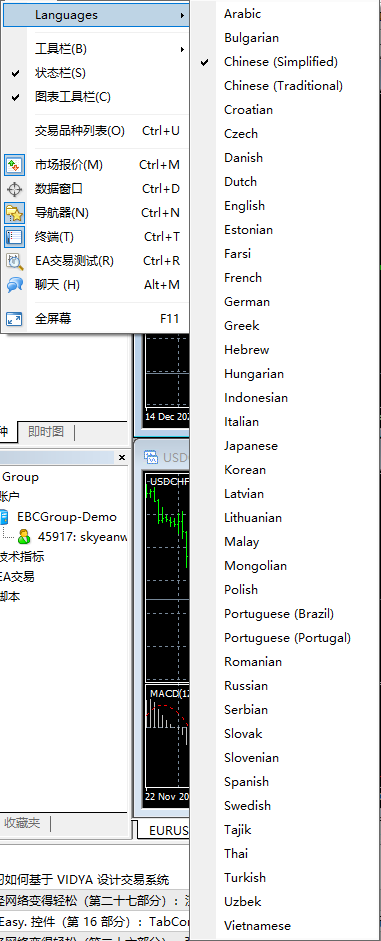 Pirated software generally has very few languages to choose from, as the organizers of the funding pool usually only target people in specific regions and do not put too much effort into language options. At the same time, it is also to save operating costs, but this also provides us with an additional reference for identifying software.
5、 Check the detailed information of the software
The legitimate MT4 software opens the help and selects the "About" column. The company registration address, company registration website, and company customer service email will be displayed, which can be directly clicked to view. However, fake MT4 software is afraid of revealing false information and generally does not display this information or add links and redirects.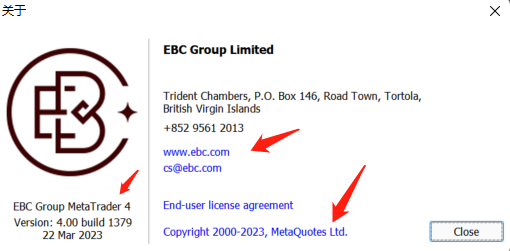 At the same time, the information in the lower left corner will also be synchronously refreshed, such as the current EBCThe MT4 installation package information was updated in real-time on March 22nd. If you click on "Copyright2000-2003, MetaQuotes" at the bottomLtd "can be directly redirected to the official website of Maidak, indicating that the EBC platform has always been in a network authentication state with Maidak.
6、 Check if server information from other platforms can be queried
The legitimate MT4 software connects to the servers of Midac throughout the entire process, so different platforms can search for each other's servers.
For example, open the MT4 software of EBC, click to open a new simulation account, enter a platform starting with E, and then click Scan to see each server and even ping value of this platform.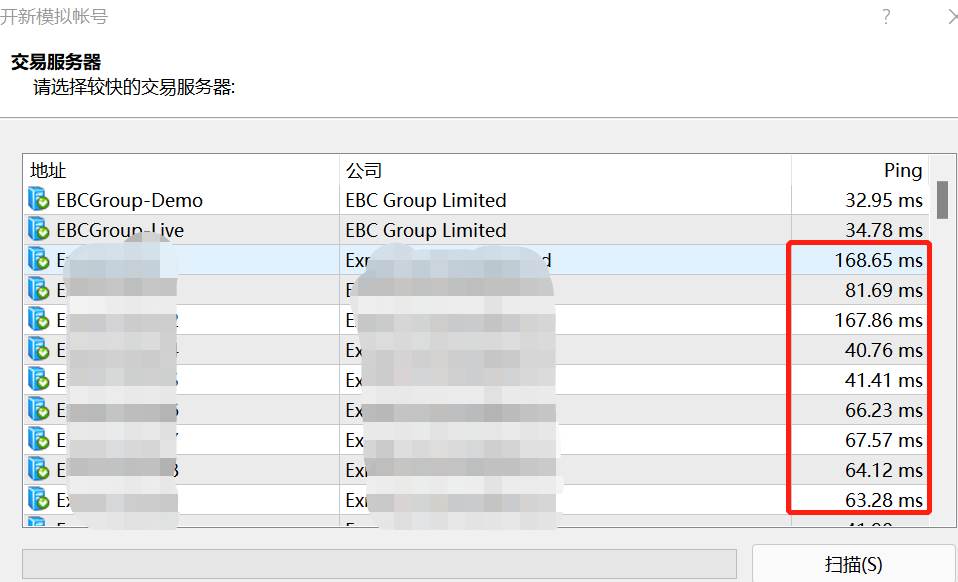 A platform server starting with E
But pirated software can never search for any information from other platforms.
And from a business perspective, no one is willing to display competitor information unless it is publicly disclosed as a regulatory third party.
The above are some methods for identifying genuine MT4 software. Through the above 6 points, it is basically possible to eliminate 99% of false platforms on the market.
Of course, in addition to keeping an eye on ourselves, we also need to rely on the power of authoritative regulation to protect the security of transactions. For example, the official website of FCA will record the information of all licensed institutions, and these websites are basically verified by FCA, so the software downloaded from them will not be pirated.
Trading is no small matter. Only in a safe and secure trading environment can we indulge in the market, learn from market fluctuations, and reap profits.