Progress on U.S. debt ceiling talks bolstered global equities and sent gold prices to a two-month low on Thursday. Treasury yields were up and the U.S. dollar climbed to its highest level since mid-March.
The European stocks extended its losses, falling about 2.7% over three consecutive days, as updated German GDP figures showed the euro zone powerhouse slipped into recession in the first few months of the year.
Oil prices dropped by $3 a barrel after Russian Deputy Prime Minister Alexander Novak played down the prospect of further OPEC+ production cuts at its meeting next week.
Commodities
U.S. President Joe Biden and top congressional Republican Kevin McCarthy were edging close to an agreement on the U.S. debt ceiling, according to a person familiar with the talks.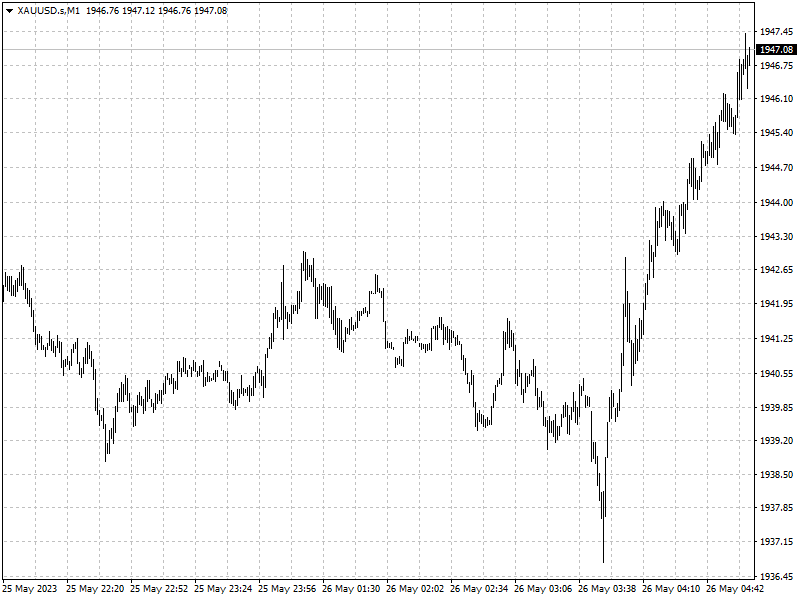 'It's a one-two punch for gold ... if a deal is done over the weekend, then that will remove the biggest risk off the table,' said Edward Moya, senior market analyst at OANDA.
'A rather impressive round of economic data suggests this economy is still showing so much resilience ... the argument for possibly delivering another rate hike is gaining steam here,' Moya added.
In recent days, top OPEC+ producers have given a raft of conflicting messages about next oil policy moves, making it difficult to predict the outcome of the next meeting.
Forex
Weekly initial jobless claims rose by 4,000 last week to 229,000, below the Reuters estimate of 225,000 while data from the prior week was revised sharply lower.
Fitch put the United States' "AAA" debt ratings on negative watch and DBRS Morningstar put the U.S. on review for a downgrade, a precursor to a possible downgrade should lawmakers fail to reach an agreement.