Wall Street shares were mixed and European stocks finished little-changed as talks in Washington resumed to avert a U.S. default, while gold prices retreated under pressure from hawkish remarks by Fed officials.
House Republican Speaker Kevin McCarthy said Monday morning's debt talks were 'on the right path'. A failure to lift the debt ceiling would trigger a default, likely sparking chaos in financial markets and a spike in interest rates.
Oil prices edged up 1% with a rise in U.S. gasoline futures and forecasts for oil demand to rise in the second half of the year, while supplies from Canada and OPEC+ declined in recent weeks.
Commodities
The IEA warned of a looming oil shortage in the second half of the year when demand is expected to eclipse supply by almost 2 million bpd.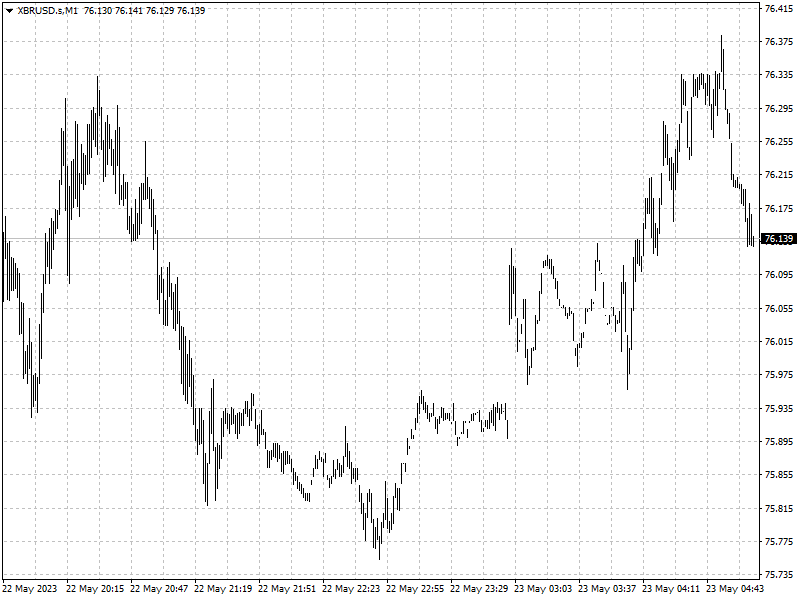 A senior executive at Vitol said Asia will lead oil demand growth of around 2 million bpd in the second half of the year, an increase that could potentially lead to a shortage of supply.
Adding to oil gains, wild fires shut in large amount of crude supply in Canada and voluntary production cuts by the OPEC+ which began this month.
Total exports of crude and oil products from OPEC+ plunged by 1.7 million bpd by May 16, JP Morgan said, adding that Russian oil exports will likely fall by late May.
Forex
The dollar rose against the Japanese yen, holding just below a six-month high. The greenback has gained for the past two weeks on stronger than expected economic reports and hawkish Fed officials.
The dollar got a mild boost after St. Louis Fed President James Bullard said that the Fed may still need to raise its benchmark interest rate by another half-point this year.
'Friday there was a bit of a setback but there's a bit more optimism after the weekend,' said Francesco Pesole, FX strategist at ING. 'Markets are seeing a deal on the debt limit and at the same time the Fed pushing back on rate cuts which is ultimately proving positive for the dollar.'