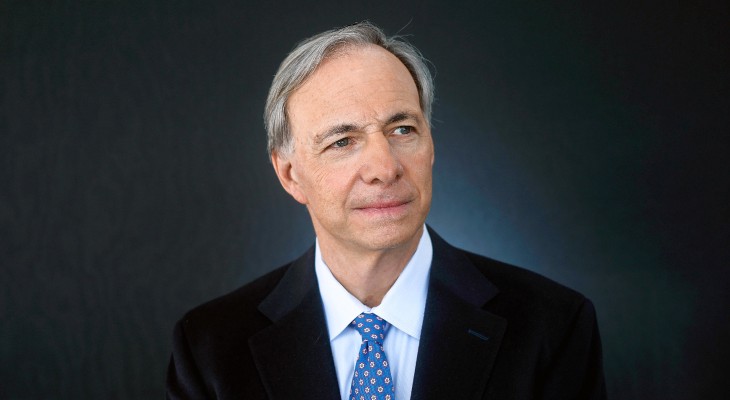 成为巨头中的巨头本身就是一项非常罕见的成就,雷·达利奥(Ray Dalio)就是这样一位被成为神一般的人物。

He is the founder of Bridgewater Associates, the world's largest hedge fund, which he founded in 1957 in his apartment in New York.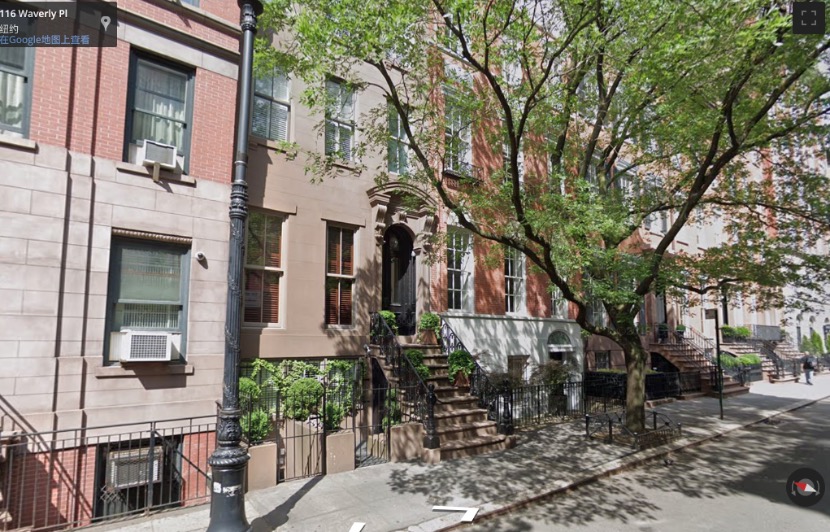 Dalio New York Apartments
Currently, the company manages over $160 billion in assets and over 1700 employees. Under Dalio's leadership and influence, Bridgewater Fund has maintained exceptional performance, even during some of the worst recessions in financial history.
Dalio is committed to continuous innovation and development, ensuring that Qiaoshui Company always adapts to the constantly changing environment, rather than gradually losing competitiveness like many competitors in decades.

In 2018, he also published a world-renowned book called "PRINCIPLES" in Chinese, which referred to the primary principle of success, including how people learn from their mistakes.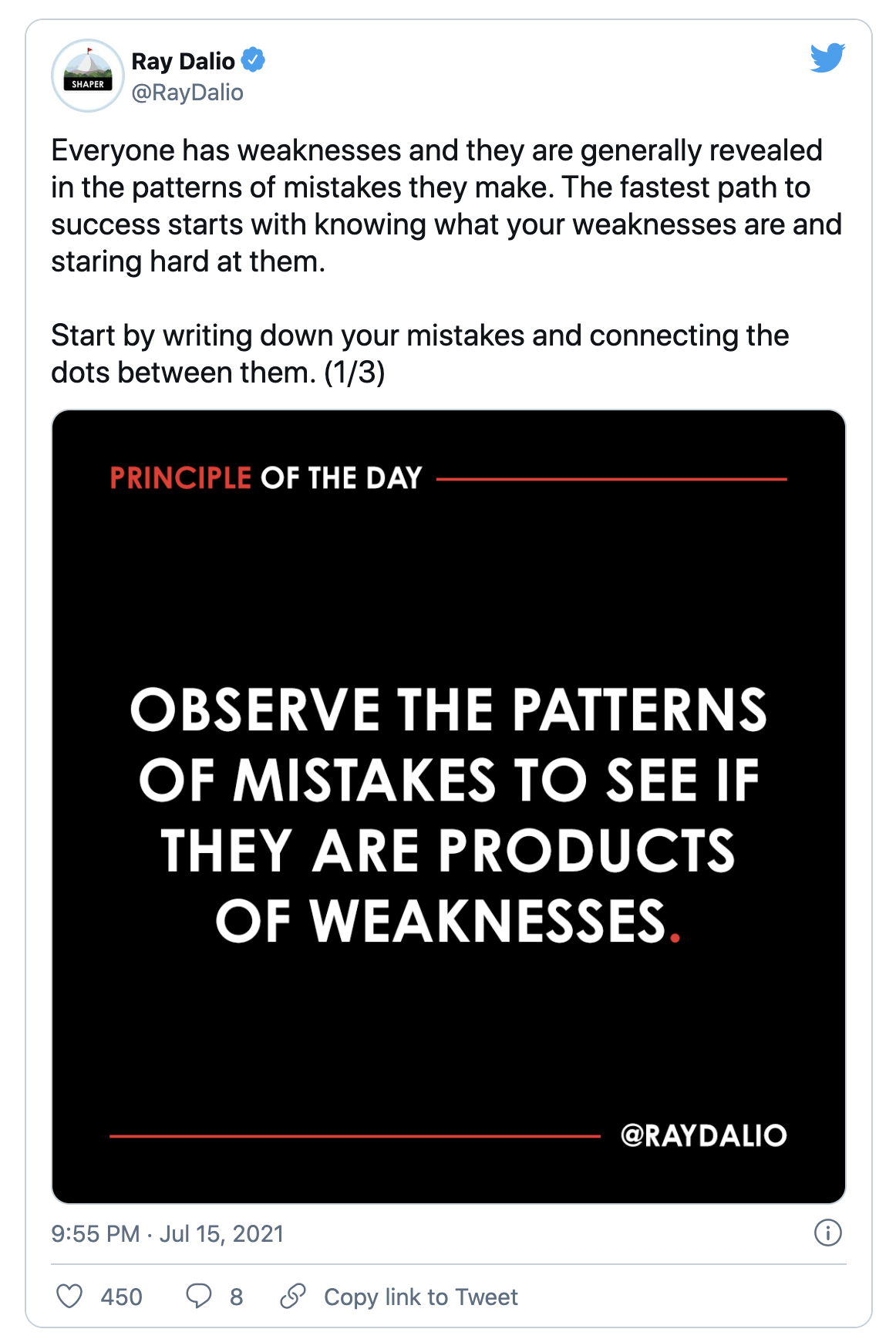 Everyone has weaknesses, and they usually expose them in their own error patterns. Dario recently wrote on Twitter: "The fastest path to success begins with understanding your weaknesses and striving to correct them
Dario has a refreshing view on the role and value of error, as he sees it as a "natural component of the evolutionary process". In this regard, it is important to assess whether people are aware of their mistakes and learn from them. Dalio distinguishes between those who make mistakes, reflect on themselves, and are willing to learn from them, as well as those who cannot accept mistakes and learn from them.
This billionaire is also very candid about some of his past mistakes, including the moment he referred to it as a 'major failure'. one thousand nine hundred and eighty-twoIn, Dalio said that he had "bet all his money on an unprecedented economic depression," and as a result, he almost lost all his money during the bull market in the stock market, which forced him to lay off all the employees of Qiaoshui at that time.
I went bankrupt and had to borrow $4000 from my father to pay my family bills, "Dario wrote in his book.
However, Dario said that failure ultimately became "one of the best things that happened to me" because it forced him to face some of his weaknesses, which led him to make such a big mistake.
It's Friday, let's relax and follow EBC Finance to see the growth experience of this global investment giant.
Early Life
Dalio was born in New York City and is the son of a jazz musician and housewife. During his growth, he had little interest in rote memorization at school, but he had tried many jobs, including working as a caddy at a famous golf course.
It was on this golf course that he first tasted the taste of the investment world, listening to the conversation between his investment experts as a caddy. He used the $300 he saved as a caddy to invest in a large airline, which quickly merged, and Dalio received an astonishing 200% return on his first investment.
Growth as an investor
From that moment on, he became obsessed with the market and began reading all the available information about the business and financial world. Starting from these small moments, he gradually developed his own investment life philosophy and realized that the only way to make money in the market is to always keep himself right when others are wrong.
By developing his investment philosophy and having financial professionals he knows critically evaluate it, he gradually developed his ideas and established an impressive stock portfolio at a very young age.
His academic performance is not ideal, but he continues to focus on his growth as an investor. He began researching the growing field of commodity futures, where extremely low margin requirements attracted young investors like him with only a small amount of starting capital.
Find your place
Gradually, he was able to combine his passion for investment with his university education, and Dalio began to excel in his studies.
With his excellent academic performance, he was admitted to the prestigious Harvard Business School and found a clerk's job on the New York Stock Exchange.
It was during this period that the financial world of the United States had undergone a major change. Because of the departure from the gold standard system, rapid inflation led to the subsequent prosperity of the stock market. Then, in order to control this inflation, the Federal Reserve began to raise interest rates, causing stocks to plummet and commodities to soar.
This means that Dalio has rare first-hand experience in the largest growth field in the financial industry when entering the professional investment field.
Establishing his company
Dalio applies these experiences from his early life and college years to create an investment philosophy by continuously predicting the main trends of various assets, namely the "Global MacroThe deep insight of the world has enabled Qiaoshui Company to maintain its leading position and accurately predict the main turning points that will lead to the rise and fall of securities prices.
This global perspective, coupled with a unique corporate culture and perseverance in developing the latest system investment strategies, has enabled Bridgewater Fund to continuously surpass its competitors year after year and gather the world's wealthiest and most prestigious clients.
Dalio believes in the usefulness of personality assessment - he uses many different personality test for recruitment and management in his hedge fund company.
Now, with the help of expert psychologists including psychologists and best-selling author Adam Grant, Dario has developed a new online personality assessment that anyone can test for free, https://principlesyou.com/ .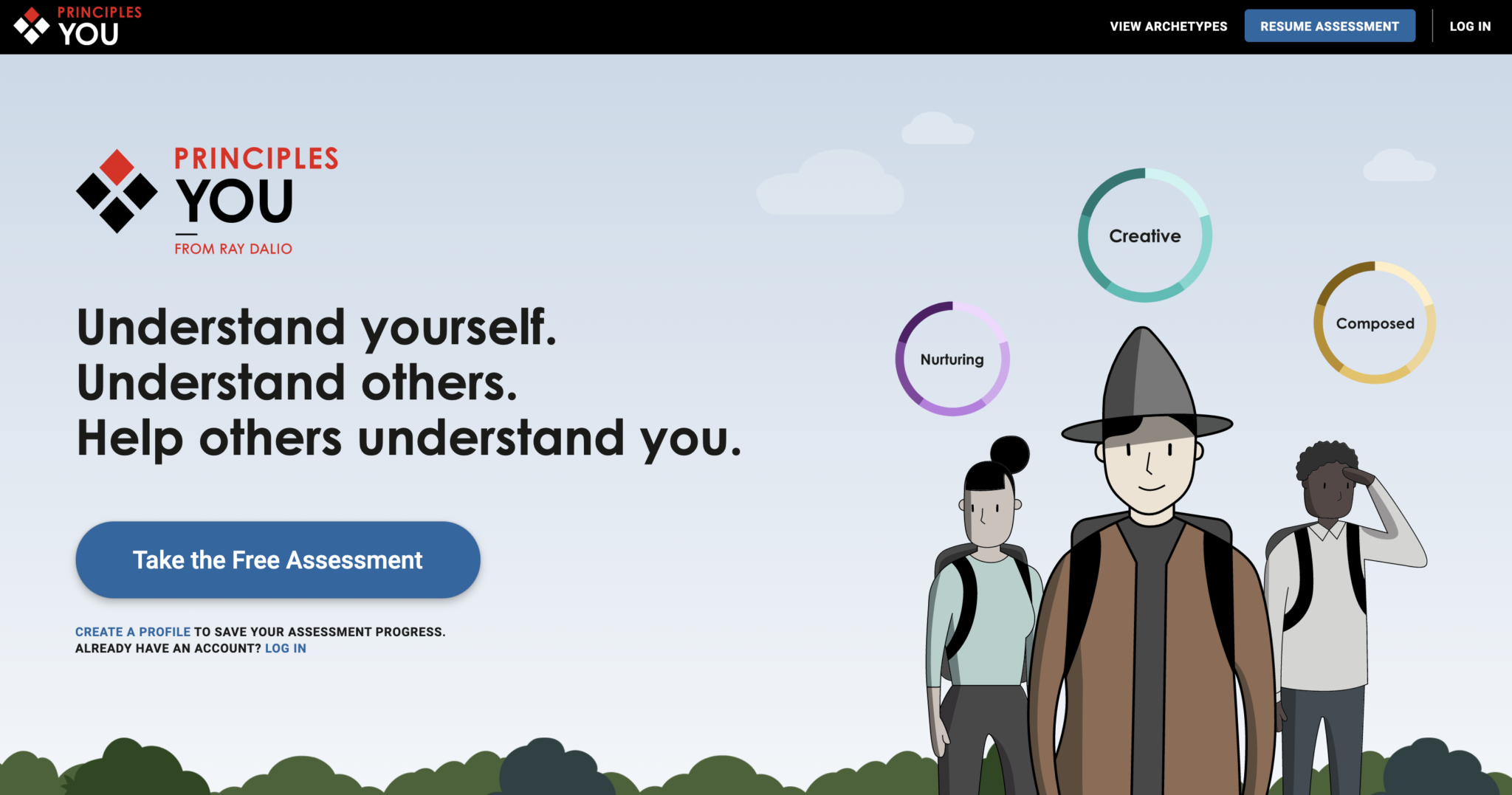 I am doing this to enable people to understand themselves and others, "Dario said. The new evaluation called PrinciplesYou takes approximately 30 to 40Minutes to complete. The results cover a detailed assessment of an individual's way of thinking, including tendencies, talents, and growth opportunities, as well as in-depth research on core characteristics and their performance in real life.
EBC Financial Group has always adhered to the principle of "constantly staying with excellent people and aligning with excellent enterprises", and strives to achieve industry benchmarks with the world's top thinking and high level of thinking.
Every serious trader deserves to be taken seriously.