Top performer

Japan's Nikkei 225 Stock Average has doubled since its pandemic low as investors continue to rush into one of this year's biggest stock rallies.
The index's 28% gain so far this year ranks top among the world's major equity benchmarks, but remains about 14% below its all-time set in 1989 at the height of Japan's bubble economy.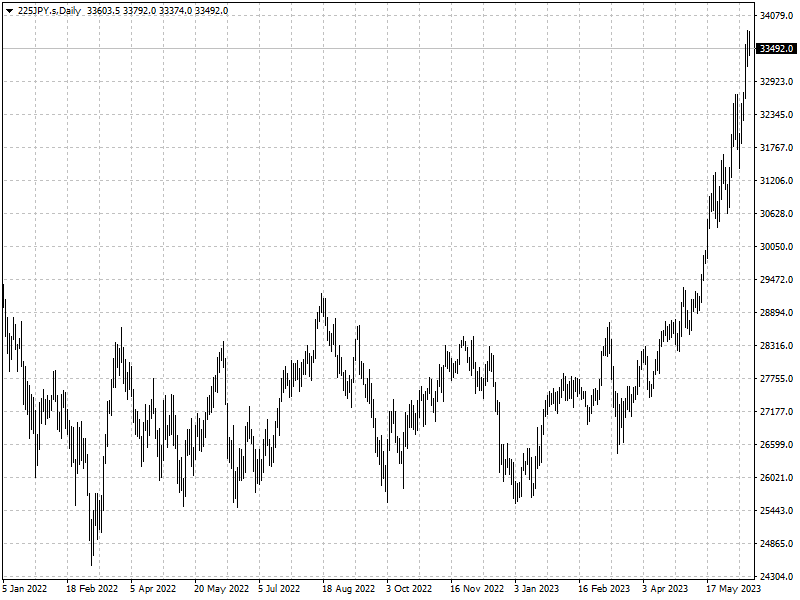 The market is enjoying tailwinds including signs of stable inflation, corporate governance reforms and an inflow of foreign investment amid an endorsement from Warren Buffett.
The BoJ sticks to its ultra-loose policy this year despite elevated inflation, sending the yen to record low against the U.S. dollar. The currency weakness helps lift exports in favour of Japanese multinationals.
'Japan markets remain attractive as a confluence of factors is playing out,' said Charu Chanana, a strategist at Saxo Capital Markets. 'The global fragmentation game of US-China decoupling also continues to push manufacturers and investors toward Tokyo amid de-risking strategies'
On the trail of Buffet
Berkshire Hathaway surprised many close followers when it disclosed 5% stakes in five Japanese trading houses — Itochu, Marubeni, Mitsubishi, Mitsui, and Sumitomo — in August 2020.
The five Japanese stocks have gained an average of 181% since the closure, raising Berkshire's holdings in value from $6 billion to $17 billion. Those bets now rank among Berkshire's largest positions.
Buffett noted at the annual meeting in May that the companies were 'ridiculously' cheap, well-established in familiar industries, focused on the long term, and big enough to have a material impact on Berkshire's earnings.
Traders are piling into BlackRock's Japan-focused ETF at the fastest pace in years as few would not regret missing out on the strong rally in Japan's market which hit the highest level since 1990.
The iShares MSCI Japan ETF has pulled in roughly $1 billion in June, with the bulk of that coming from a $787 million cash influx last week, the biggest weekly inflow in over five years.
Options activity suggests traders expect more upside for EWJ. Total call open interest jumped to 218,000 contracts on Monday, the highest since December 2021.
Europe's biggest money manager is a is seeking opportunities in Japan's cheap construction stocks.
Amundi's Japan Target Strategy has ¥90 billion of assets under management, and has been focusing on price-to-book ratios since its inception in 2000.
Sticky inflation matters
Japan's CPI rose 4.3% in January from a year earlier, the fastest gain in 41 years. The annual increase in the inflation remained well above the target 2% level in May.
While the surge was initially driven by a global energy crisis, the price pressure is proving sticky enough that economists expect the trend to continue even as import costs decline.
'Japan has a structural story of now-persistent and above-trend growth and inflation, which are leading the long-delayed 'third arrow' of Abenomics,' wrote Charlie McElligott, cross-asset macro strategist at Nomura, in a note.
'There is a long-awaited story building of a hypothetical Japanese corporate margin expansion, as pricing-power can finally be pushed-down into a very different Japanese consumer, who increasingly has the capacity to absorb it.'
Some investors hope that the country's savers will shift more of their savings into domestic stocks. Households keep around half of their net worth in cash and deposits.
Individuals were net buyers of Japanese stocks in 2021 and 2022, the first time they were net buyers for two years in a row this century. This happened in 2008 and 2011, preceding market gains.
There are also positive signs that Japanese companies finally begin to increase spending. They have been used to paying off debts and hoarding cash during Lost Decades.
Global investors are still underweight on Japan on skepticism that it is nothing but the latest in a series of false starts, including the rollout of Abenomics in 2013.
A key difference this time is that the momentum is accompanied by an increase in wages. Many Japanese workers, who had seen little or no growth in pay for decades, are promised bigger paychecks following recent labor negotiations.